Welcome to Sparta Coop Services!
Sparta Coop Services was established in 1996 from the merging of Sparta Co-Op Exchange and Sparta Co-Op Oil. This combination gave Sparta Coop Services an established consumer clientele teaming up with our farming community patrons to give us a diversity necessary for us to flourish in any business climate. Our mission is to provide our local Monroe County patrons with top notch products and services. That requires us to keep up on new technologies and better ways to use it for our local customers.
Our Grain and Fertilizer Departments have grown tremendously over the last few years because the changes in agricultural economics demanded it. Mr. Tire has the automotive products and services to keep the wheels rolling on older and late model vehicles alike. Our propane delivery business has thrived by giving great, dependable customer service for heating fuel when you need it most. And the Sparta Coop Cenex convenience store is the friendliest stop in town for all your fuel, snacks, soft drinks and fresh made pizzas.
All this in a business that is locally owned and operated with local employees. Our families and friends are our customers, and that's the way we like it. Stop in or call. You'll be glad you did!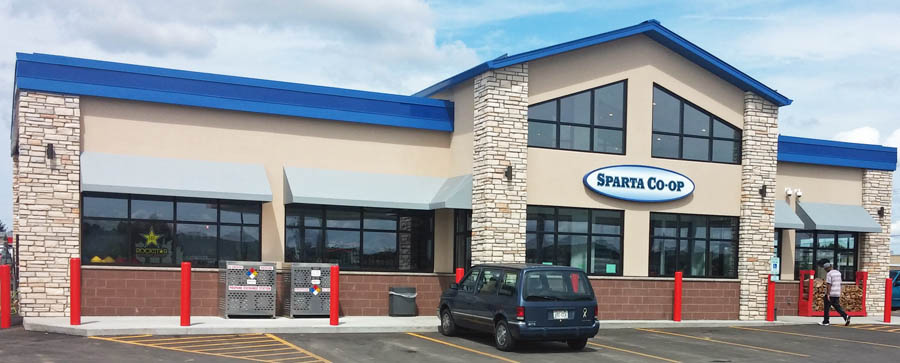 Picture from 8-26-16
New Hwy. 27 Cenex
New Convenience Store open and serving our customers. New food offerings like breakfast sandwiches, roller dogs, beer cave and a bigger selection of snacks. Bigger, brighter but best of all, the same great Cenex Team ready to assist you. Still the friendliest stop in Sparta.
New Arby's restaurant now under construction where the old C-Store was located and will open later this fall. Food & Fuel at Arby's and Cenex. Can't beat that!